Barryton Public Library 198 Northern Ave Barryton, MI 49305
Phone 989-382-5288 Fax 989-382-9073
email - barrytonlibrary@yahoo.com

Check out the new
Chippewa Branch of the Barryton Public Library
Located in the Chippewa Township Hall
19171 4th Street
Chippewa Lake, MI 49320
Books! Books! and more Books along with
4 Computers for the public to use at
the Chippewa Branch!
Lightning fast internet with printing available!
Wi-Fi also available at or near the Chippewa Township Hall
Always on - just choose "Barryton Library at Chippewa"
from your list of available networks.
_____________________________________________________________
Monthly Meetings of the
Barryton Public Library Board
Are held the 3rd Friday of each month
At 1:00pm at the library
(Unless otherwise posted)
The October Meeting has been rescheduled for Friday October 11, 2013 @ 1:00pm
September 20, 2013 at 1:00pm
October 11, 2013 at 1:00pm
November 15, 2013 at 1:00pm
December 20, 2013 at 1:00pm
________________________
Tuesday – Friday 9:00am to 6:00pm
Saturday 9:00am to 1:00pm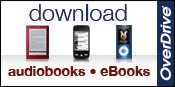 eBooks Now Available for Checkout!
eBooks and audiobooks now available for check out from Overdrive for a wide variety of devices:
Kindle, Nook, iPad, iPod, Blackberry, PCs and lots more.
Click the link above to go to the Overdrive site. Choose "Log In" from the yellow bar and select Barryton Public Library from the list. Log in with your library card number and pin.
The Overdrive site offers help, but if you're having trouble, come to the library. We're happy to help you get started!
Downloaded books checkout for two weeks, then automatically disappear from your device - no late fees!
---
| Return Home | Library Catalog | Library News | Our Services | FAQ Page | Contact Us | Great Links | Board Minutes |